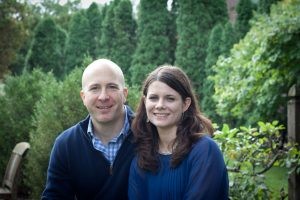 Christina Welter continues a tradition of support for undergraduates through the Schubert Center.
Twenty years ago, as an anthropology major in the College of Arts and Sciences, Christina Welter (CWR '98) traveled to American Samoa to conduct a study of immunization practices and policies for the islands' public health department. Through her interviews with patients, clinicians and health department staff, Christina saw firsthand the importance of policy-related research that includes the community and responds to its needs. 
Her experience had a profound impact on her decision to pursue a career in public health research, practice and policy. Formerly the deputy director of the Cook County Department of Public Health, Christina is now associate director of the Doctorate in Public Health Leadership Program at the University of Illinois at Chicago's School of Public Health. In addition, she directs the Mid-America Center for Public Health Practice. 
Christina's journey to American Samoa was funded by the Mann Scholars Program, created by alumni siblings Carol Mann (FSM '71) and Robert Mann (WRC '73) to support undergraduate experiential learning, including travel abroad for health-related projects. More recently, the Manns have supported an undergraduate externship program at the Schubert Center for Child Studies, enabling students to work in local agencies and nonprofits involved in child policy.
Following the Manns' example, Christina and her husband, David Muzic (CSE '97), became Schubert Center donors in 2015. They created an undergraduate fellowship in child studies that funds research, participation in conferences and related activities. Their gift is in part a tribute to Schubert Center Director Jill Korbin, the Lucy Adams Leffingwell Professor in the Department of Anthropology and associate dean in the college. 
"Dr. Korbin has been an important mentor to me throughout my career," Christina says, "and the Mann Scholars Program catalyzed my lifelong commitment to policy-focused and community-based research and practice."