Saying Thank You by Opening a Door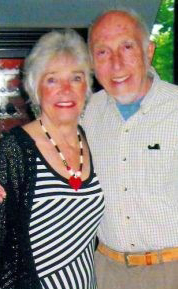 The writings of Jules Verne and H.G. Wells may have given George Baum (CIT '54) the early fascination for science, but it was Case that opened a door to a future beyond the limited opportunities in Cleveland's inner city in the 1940's and '50's. George credits Case Western Reserve University (CWRU) for much of what made his life useful and successful. As a way to say, 'thank you' and help another CWRU students up the ladder, George Baum and his wife Kaye have recently created their 11th Charitable Gift Annity (CGA). The gift proceeds will be used to fund a named endowment in memory of George's parents. A CGA is a savvy way to help supplement your income, lower your taxes and benefit the university – all at the same time.  George and Kaye are pleased that their contribution will strengthen CWRU so it can continue to provide a pathway to a better life for subsequent generations.
George Baum came to America from Hungary, on the SS Manhattan in November of 1939 with his mother and father. Like many other immigrant families, they had very few belongings and initially lived with an aunt and uncle in a Cleveland apartment. In April, 1945 George and his family became naturalized citizens of the United States. George attended Glenville but graduated from summer school at John Hay so he could start CWRU in the fall of 1950. While at Glenville, George attended a presentation by a CWRU recruiter.  On inquiring about tuition he was delighted to learn that he had saved just enough money to pay for the first year. So he applied, was accepted and graduated in 1954 with a degree in Industrial Chemistry.  Twelve years later, while working and raising a family, he graduated from Ohio State University with Ph. D. In Organic Chemistry.
The Baums have been loyal donors to CWRU. His formula for a successful life is to be active physically, and gain mental peace and strength from the outdoors, reach out to friends and strangers alike, make your life worthwhile, and lastly, find, and give love.